Project Detail
Project Name
ithum Noida
Project Company
Grandslam Group
Project Address
Sector 62 Noida
Grandslam Group is backed by massive two decades of experience in construction sector and is famous for many landmark projects in Delhi-NCR. By delivering quality properties within the scheduled time limits, Grandslam has always enabled people to experience the uncommon.
Adjacent to their iconic Corenthum, the group has now launched their new venture Grandslam i-thum in sector 62 Noida. Whenever they come up with a property, it has become a tradition that they transform as landmarks to an area. This time with i-thum, Noida has gained yet another magnum opus venture.
The design and layout will complement each other at Grandslam i-thum and what results will be a refined behaviour of the office space. The working ambiance for the occupants in Grandslam i-thum will be devoid of any boredom or stress, in fact graced by prospering nature.
As i-thum is assisted by gasping USP's like helipad and geomancy concept of landscaping, it exemplifies why it is quoted as the new era IT parks. Beautiful hanging entrance canopies, private patios and cascade fountains will also compliment the unique stature of Grandslam i-thum in Noida.
Further, I-thum will be delivering a reinvented outlook to its office spaces by amenities like a central atrium with meeting facility, clubs, aesthetically favoring designs, concierge facility, central atriums, food courts and many more.
The futuristic advantage for investments to turn multifold with Grandslam i-thum is that the metro will soon unroll through the close vicinity of Grandslam i-thum. The Noida City Centre – Sector 62 corridor is on track and on its completion i-thum will notch us its demand on the real estate graph of Noida
Locational Advantage
01 min from NH-24
30 minutes from Yamuna Expressway
45 minutes from IGI Airport
15 minutes from Greater Noida West
05 minutes from Noida City Centre Metro Station
ithum Regus: Co-Working Spaces in Noida
"Co-working spaces are going to revolutionize and disrupt the traditional office spaces… we will see a shift away from long term office leases into a more flexible solution." Co-working spaces create the best of both worlds for freelancers: The flexibility of choosing your own hours and schedules without isolation.
This work style is an inspiration and motivation for people who plan to start their own business or are freelances as they don't have to pay higher rents and other office expenses like setting up the entire office. The most demanding commercial space i-thum located in sector – 62 Noida, has introduced coworking spaces with the size range of 250.sq.ft with rental guarantee from day one with the location advantages like:
01 min from NH-24
30 minutes from Yamuna Expressway
45 minutes from IGI Airport
15 minutes from Greater Noida West
05 minutes from Noida City Centre Metro Station
THE FUTURE OF IT PARKS!
About I-THUM
The I-THUM is the future of IT Parks in Noida, Situated at Sector 62 in Noida is another landmark from the Bhutani Group.
The I-THUM Offers Commercial Office Spaces in Noida in its 5 Acre plot & Once the project is completed the ithum will enjoy an Additional 5 acre campus of the The Corenthum including leading Banks
The Office Spaces range from 475 / 500 / 700 / 1100 / 1500 / 1700 Sq Ft ( approx )
Each floor plate ranges from 20,000 Sq Ft & upto a max size of 40,000 Sq Ft.
Situated right next to NH - 24 , it is abutted by 30 meter arterial road & is on the walking distance of the proposed Metro station of Sector 62 Noida , The I-THUM enjoys the neighbourhood co's vis a vis HCL , Jaypee , Airtel , Nucleus to name a few.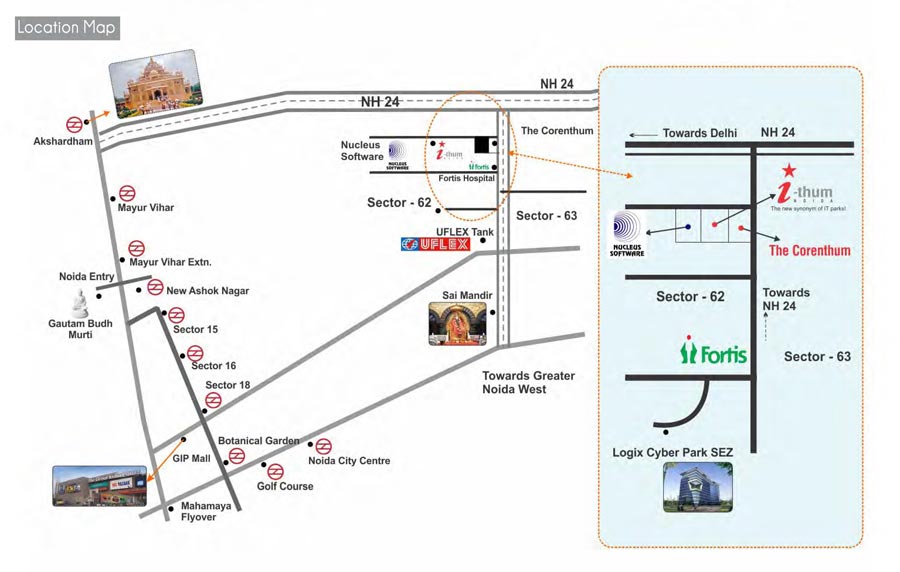 ithum Regus: Co-Working Spaces in Noida
Returns
Rs. 76/- Sq.Ft. For First 3 Years, Thereafter On Actuals
Offer Price
Rs. 11,400/- Sq.Ft. (No GST, No Other Charges)
Unit Size
250 Sq. Ft. Onwards
Investment
Rs 28.50/- Lakhs Onwards
Loan Facilities Available
PNBHFL